I'm not normally one for sew-along's, I have good intentions when starting and then get distracted by life/other projects/TV but.. I am hoping this Time will be different.
The Summer Spark Sew-along is the baby of Ali of
The Wardrobe Reimagined
, Sarah of
Rhinestones & Telephones
and Alessa of
Farbenfreude
. The premise is that we sew one Summer garment over the course of June, nice and pressure free ey?
I've been deliberating on what I want to sew, I initially thought I would make a Lonsdale dress, but I'm not sure how much wear I would get out of it, considering the 'great' British weather we are
experiencing
enduring right now (seriously I'm considering building an Ark) after umming and ahhhing over just about every pattern in my collection I have decided to make a pair of early 1950's style denim pedal pushers.
I'm starting out with Simplicity 2868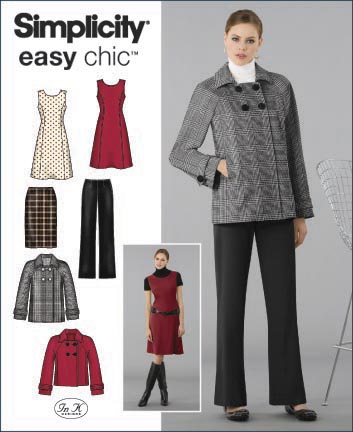 I know, the pattern envelope is hideous, I bought it because the Jacket was of a very similar shape to one I'd seen on Modcloth, and the trousers and the skirt looked like easy work appropriate basics. I've already made up the trousers once and got a decent fit, so I won't have to do another toile.
I am going to redraft them into a jeansy pattern, taking inspiration from these by
Retrospect'd
and these by
Freddies of Pinewood
Pretty neat looking dontcha think?
In other new's I have been pushing through my UFOs and have finished a skirt, a dress and a top however they all still need to be photographed, hopefully that will get done at the weekend
Toodle-pip!
Rachel Lou x